Written By Jessica Nichols
The first presidential debate sparked a lot of controversy, the least of which did not fall on America's sweetheart, Big Bird. Romney's comments about cutting funding for the Public Broadcasting Service, though conceding, "I like PBS, I love Big Bird," inspired the protest held November 3, aptly named "Million Muppet March."
The "Million Muppet March" brought together more puppets than probably had ever been in once place, standing for one purpose before.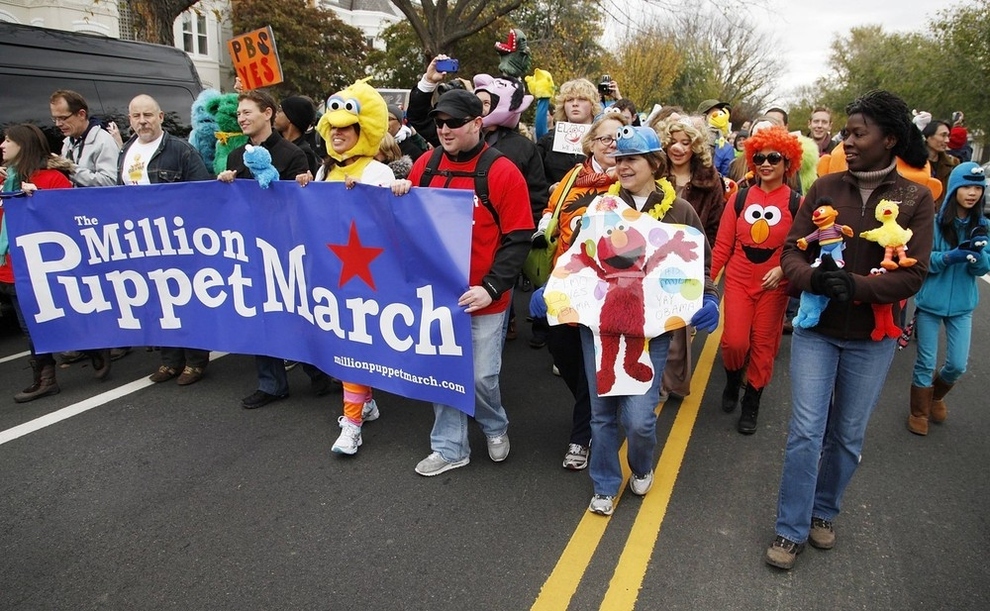 If Romney likes PBS and Big Bird, then why would he attempt to cut funding for the household name and channel? Romney had this to say, "I'm going to stop the subsidy to PBS… I'm not going to keep spending money on things to borrow money from China to pay for."
Romney has been under fire about the comment ever since. Trending on social networking cites, memes, thousands of tweets, and an extensive media debate over whether cuts to PBS would begin to make a dent in federal deficit later, organizers created the "Million Muppet March." Supporters of public broadcasting were outraged to hear Romney's comments, and critic Bill Maher from "Real Time With Bill Maher" pointed out the PBS subsidy's small proportion of the federal budget: a mere $445 million of $3.8 trillion.
The spirited march on Washington was started by animation executive, Michael Bellavia, and Chris Mecham, a university student, in response to Romney's comments. Bellavia said, "I figured, why just make it a virtual show of support? Why not take this opportunity because it seemed like there was already a growing interest in it and actually make it an active, participatory event."
The "Million Muppet March" saw protesters toting anywhere from fun-sized sock puppets to full-sized creations of our favorite neighborhood friends from Sesame Street: Big Bird, Bert and Ernie, Animal, and more.
Sesame Street, which has been airing for 43 years, is a very popular educational program, so there was no problem for organizers of the march to find people willing to come out and show their support for this longtime American institution. Organizers of the march say that at least 600 people signed up to participate in the actual march at the capital, with thousands more showing their support virtually through Facebook, Twitter, and even their own marches across the nation.
As the election draws nearer, supporters hope that their efforts raised enough awareness about the importance of federal subsidies to the Public Broadcasting System, for public television and public radio.