Written By Jessica Nichols
Hurricane Sandy has been declared the highest costing and the largest hurricane on record. Scientists cite global warming and its effects to the recent spike in 'super storms,' which then begs the question of how Sandy is going to effect the upcoming presidential election.
Whether one is a democrat, republican or a third party supporter, a natural disaster transcends party lines. In the wake of Hurricane Sandy, which experts are saying was so severe partially due to global warming, how the candidates respond to these very real issues may be a decisive point in the minds of voters.
After breaking ground in the United States on October 29, Sandy has become the second-most costly hurricane in US recorded history, racking up an estimated $50 billion in economic losses, and is second only to Hurricane Katrina. Jonathan Foley, director of the Institute on the Environment at the University of Minnesota, recently tweeted this in regards to the strength and severity of Sandy, "Would this kind of storm happen without climate change? Yes. Fueled by many factors. Is storm stronger because of climate change? Yes."
Global warming is not necessarily the most widely accepted notion, however, especially outside of the scientific community. There are still many political and religious figures that do not believe in climate change as well as our role in it, and responsibility that humans have on this planet.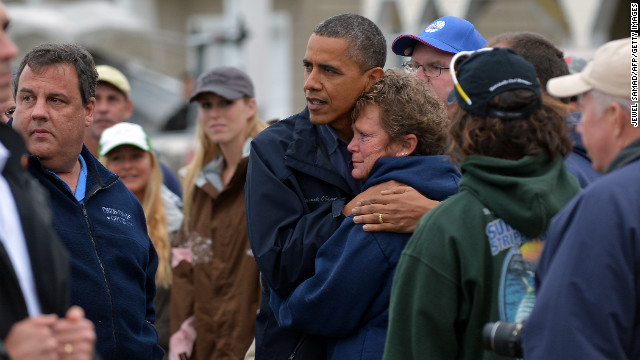 But how can global warming alter weather patterns or the severity of storms? Scientists look to indicators like sea level to determine this. This past summer heralded a large loss on the level of sea ice. Climate Central had this to say, "The loss of sea ice opens large expanses of open water, which then absorbs more of the incoming solar radiation and adds heat and moisture to the atmosphere, thereby helping to alter weather patterns."
Romney has been unclear on the subject at best, citing an unclear scientific stance as the source for his measured view on the topic. He told donors at the Consol Energy Center, "My view is that we don't know what's causing climate change on this planet. And the idea of spending trillions and trillions of dollars to try to reduce CO2 emissions is not the right course for us."
Obama, on the other hand, may be taking a much more active role in the wake of Sandy. While Obama has never before had a problem mentioning global warming, he has of yet has not brought to the table the seriousness of the issue at hand, though he did say in a speech in Charlottesville, Va. last week, "Denying climate change doesn't make it stop."
As coverage of Sandy spreads and the clean-up effort is put into place, the pressure is on for this presidential election. Mitt Romney and Barack Obama are on the ropes to ensure that they are sending their message to the public, assuring them that they, too, take this issue very seriously.